The Company
Gene and Galer Barnes started BRITTANY in their garage in Northern California 41 years ago. Chris and Michri worked with his parents for 15 years and officially took over the business in 2013. We do all the manufacturing which ensures consistent quality and individual care. Being a small family business we can give you personal and truly friendly service, and we care about what you specifically think of us and our products. We think you deserve the best, not just for special occasions but every time you pick up your needles.
Our Commitment to the Environment
We pride ourselves in being an environmentally-minded company and try to minimize our impact at every stage of production.
We have worked very hard to develop the "greenest" packaging possible for our needles. It is made from 100% recycled paperboard and is 100% recyclable. If the label is removed it is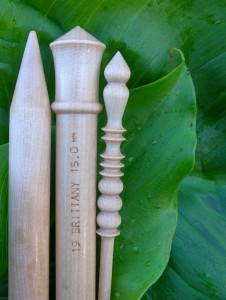 perfectly safe to put in your compost pile. The package is as small and lightweight as possible to be efficient in shipping and thus consume less energy getting to the final customer.
We recycle everything we can at our workshop, from catalogs to containers. Office paper and cardboard are reused if possible before being recycled. Shipping material is reused from packages we receive and we only buy eco-friendly packing material – never styrofoam. The actual amount of trash we create is minimal, much less than most households. The birch used to make the needles is sustainably harvested. We try to get the other materials used at the shop in the most environmentally friendly form available.
We appreciate the natural beauty and clean fresh air of the Northern California coast where we live and work and understand the importance of preserving it and the rest of our planet.
Why Our Needles are Only Available at Independently Owned Retailers
Our products have never been sold in any chain or big box store.
We think it is important to support "small businesses" for a variety of reasons. Among them are that they better represent our products and can give you better customer service. They can help you with any questions you may have and if they don't have something on their shelf you can always ask them to order it for you. Also, local businesses are more likely to give back to their community and that is always something we get behind. If you don't have a local yarn shop you can walk into there are many that sell online and/or have mail order catalogs. You can find some of them listed here. Thank you for supporting us and your LYS, we all appreciate your business. ♥