May 2017 – The Usual Antics

Here's a little of what we've been up to in the last few months: we got a very handsome rooster who Quinn named Buckbeak; Chris has maintained our equipment – including the dusty dust system; our shop dog Pippi will not be accepting messages from UFOs with the protection of her tinfoil hat; and Michri is very proud that she can still make size 35 needles.
---
 August 2016 – Brittany ♥ Knitted Knockers
Chris met Barbara at TNNA in DC and they immediately hit it off. We are teaming up with her to provide needles for her to take to Rwanda. Making Knitted Knockers could become a small income-generating activity that would enable women to escape poverty while making a difference to cancer patients. Barbara does amazing work, you can learn more about knitted knockers here.
---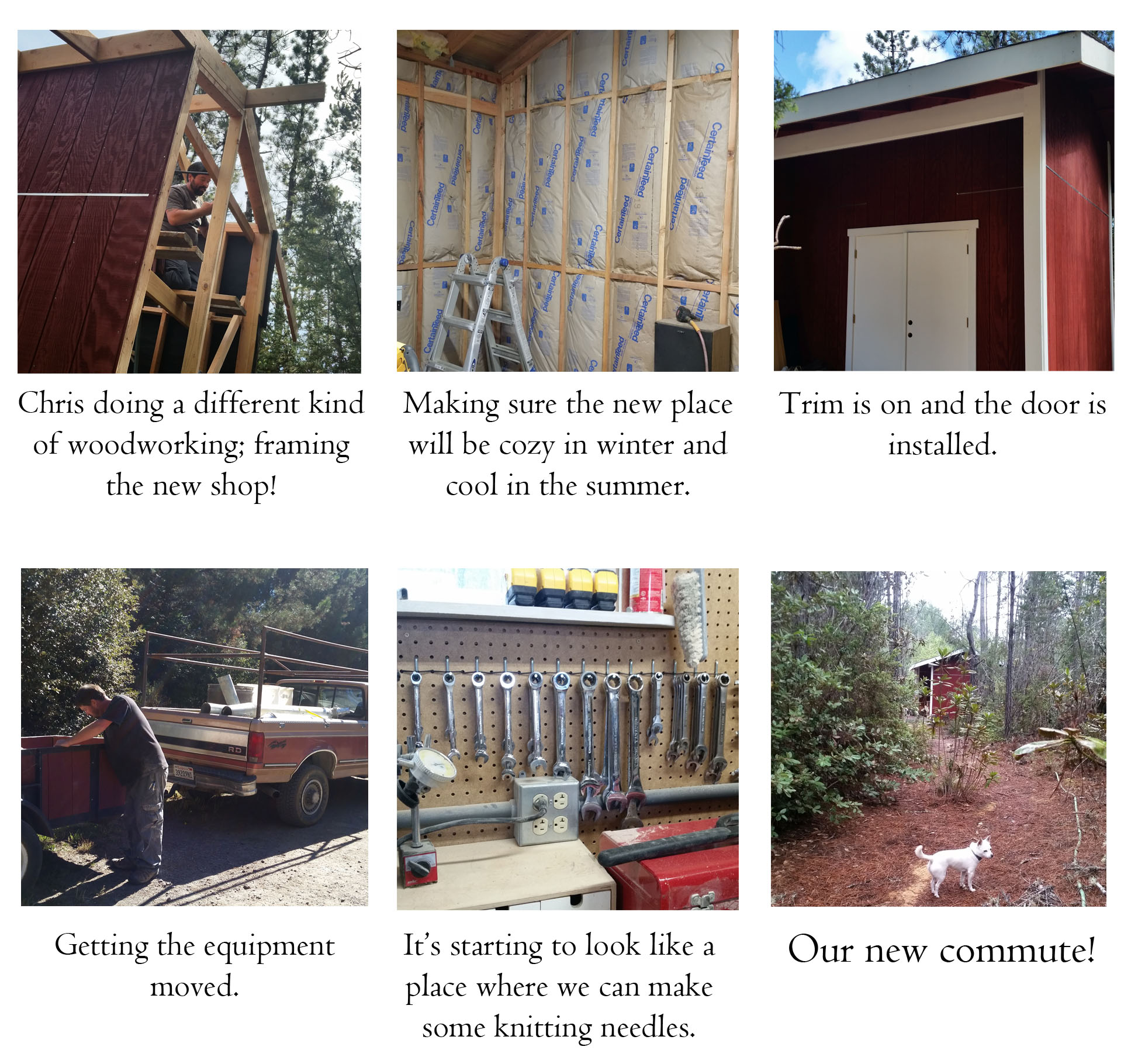 March 2016 – We have moved!
We have been busy bees as you can see in the pictures on the left. We moved our production from Chris' parents property to our place. It was a lot of work and there is still more to do but the effort is well worth it. We can work much more efficiently with the shop just down the hill and we get to have a lot more family time together.
---
May 2015 – Needle Wax Display Boxes
Needle Wax display boxes are now available for yarn shops, if you order 5 jars they will be shipped in this handsome box. Our needle wax can be used to clean and maintain the finish of any wooden tools. Instructions for use are on the jar and the display box. The all natural ingredients of the wax are: beeswax, carnauba wax, candelella wax, water, and organic vanilla oil.
---
Feb 2015 – Chris is interviewed on the Woolful Podcast
Each week Ashley inte

rviews different fiber folk from all around the world. She describes herself as "Maker. Obsessive knitter. Lover & Mother. Wanna be homesteader. In San Francisco." Chris really enjoyed his conversation with her. You can listen to it by following the link here
---
December 2014 – Needle Wax!!
We are happy to tell you that we have been at work on a new product and are now ready to introduce it! We have developed an all natural Needle Wax to maintain the finish and enhance the slickness of your wooden knitting needles and crochet hooks.. We are very happy with it and our testers have given it great reviews. As far as we know there is nothing else like it on the market and we have had many requests for this product. If it is not already in your LYS they should be able to get it from their suppliers. Take the very best care of your tools with this all natural needle wax.
---
August 2014 – Read all about us
We are so excited to be featured in the current Interweave Knits gifts issue in the Where it Comes From column. You can learn all about us and see pictures of us at work. The article can be read in their Knitting Daily blog here.
---